UX Metrics and ROI
5th Edition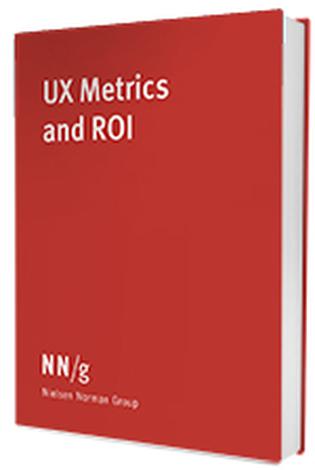 AUX metricis a piece of numerical data that tells us about some aspect of the user experience of a product or service. These metrics can be invaluable, helping teams to assess the quality of their designs and track improvements over time. In some cases, they can be used to demonstrate how UX work can impact business goals.
This report includes44 real-life case studieshighlighting how teams have used UX metrics in their work. Many are success stories, demonstrating how well-founded and researched design decisions have a huge impact on the user experience, resulting in increased business value . Some are not success stories — the impact on the design was neutral or even negative. This is the reality of design work: we can't always predict the impact on our users. This fact underscores the continued need for iterative design work based on solid research.
The 297-page report also includes advice for将这些概念应用于您自己的工作, as well asdetailed quantitative analysisof the 99 total case studies we've collected for all editions of this report over 14 years.
主题
44对现实生活设计项目的详细案例研究,为第5版收集了30项新案例研究。这些案例研究来自各种规模和行业的公司,包括:

美国狗窝俱乐部

亚利桑那州立大学

Atlassian

hellofresh.

luxottica(雷栏和奥克利)

Shopify

Starbucks

Clear definitions of popular UX metrics and quantitative methodologies

Step-by-step guides for applying these concepts

How to get started with UX benchmarking

How to calculate the return-on-investment for design changes

How to estimate the magnitude of gains from design changes

设计项目对指标的平均影响量

Realistic expectations for your own design work

Breakdown of average gains for each category of UX metric

How the impact of UX has changed over time

Comparison of current average amount of impact against older data from 2006-2008

Breakdown of how average gains for each category of UX metric have changed

Explanations for these differences

Predictions for future changes

Each case study includes:

Metrics collected

Methodology used

Description of the product or service

该团队试图解决的设计问题的描述

Description of the solution(s) implemented

Results of the design change
第5版是什么新的?
新名字:

5.

th

edition is a radical transformation of this report. The report's title for the first four editions was

Return on Investment (ROI) for Usability

,并重点致力于确定UX活动的预算,并证明对UX工作的需求。此新版本更多地使用定量数据来评估UX更改并估算其影响。

30 new case studies of real-life UX projects and metrics:

新案例研究来自各种行业和产品。除了截图和指标之外,许多案例研究还包括像想象的剪影等设计伪影。案例研究来自世界各地,包括:

North America

Europe

大洋洲

南美

The Middle East

亚洲

9深入了解

with some of the design teams: Their quotes, stories, and tips are included throughout the report.

应用这些方法的解释和说明:

In this edition, we've added three chapters with definitions of important concepts, as well as advice about how to apply these concepts on your own.
---
Related