User Experience Careers
2nd Edition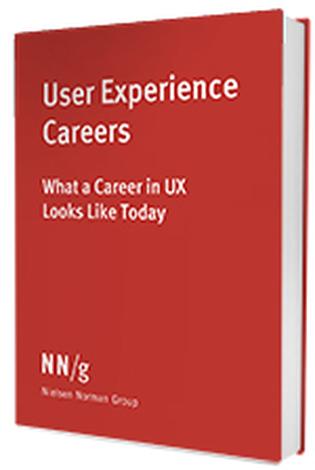 This90-page reportexplores what a UX career looks like today, including what UX professionals make of it, and how best to get a job in the field. The 2nd edition is based on several research studies carried out in 2019, with responses from722 UX professionalsaround the world.
This report features a discussion ofspecialization in the UX field, it explores theunique backgroundsof practitioners, and it details theskills and responsibilities UX practitioners have workingin the industry today.
Article on research findings: What a UX Career Looks Like Today
Topics
The kinds of work UX professionals do

Industries in which they work
What they are working on
Activities performed on the job

Education and backgrounds

Formal education
Most useful areas of study

Differences between researcher and designer roles
Changing careers

The various paths into UX
Transferable skills
The process of making the change to UX

Skills needed for the job

What skills UX practitioners have, wish they had, and found useful

Experiences with mentorship

Why mentorship is useful
Where to find a mentor

How satisfying is a career in UX?
What hiring managers look for in UX professionals
Advice for new practitioners
Methodology
This report is based on several research studies carried out in 2019. These research studies included a survey, 2 focus groups carried out in Hong Kong and Los Angeles, and 17 remote, semi-structured interviews with UX professionals from around the world.
---
Related