Social Media User Experience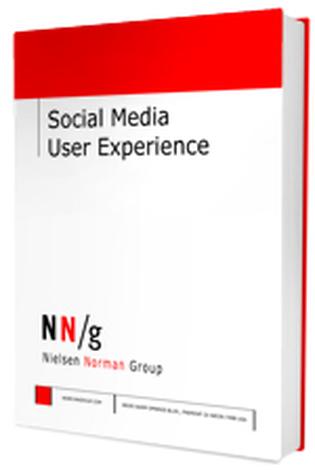 Messages, notifications, and alerts sent through social networks and RSS feeds must be relevant, timely, and well-written to be effective. Users are increasingly overwhelmed by the amount of information they receive on a regular basis, so messages sent through these channels must well-designed in order to grab users' attention.
This208-pagereport includes109 design guidelines; 85 guidelines for postings sent from social networks and 24 guidelines for alerts sent through RSS feeds. The findings and guidelines are supplemented with discussions and208 screenshot illustrations.
Topics covered
Understand how people use social networks and RSS to receive information from companies and organizations

Finding companies and organizations
Choosing which companies and organizations to receive updates from
Deciding which delivery method to use

Social network design guidelines

Message content
Message frequency and timing
Voice and tone
Engaging followers and facilitating discussion
Profile information and design
Building a following and promoting a social network presence

RSS/news feeds: Design guidelines

News feed content
News feed frequency
Promoting RSS news feeds

Study methodology details, including test tasks, questionnaires, and other study protocols that have been refined through our two rounds of research (this can help you plan your own studies better)
Types of messages, notifications, and alerts included in research
Health (WebMD, Mama's Health)
News (ABC News. USA Today, The New York Times)
Entertainment (Gourmet Traveller, iTunes, The Rachel Ray Show)
Travel (STA Travel Australia, TripAdvisor)
E-commerce (Company C,Totalbeauty.com)
技术(微软Windows)
Sports (Australian Institute of Sport, Boston Red Sox)
Government (Barack Obama, City of Portsmouth, New Hampshire)
Non-profits (American Cancer Society, Amnesty International Australia)
Research Method
The information in this report is based on two rounds of research. Usability research methods included:
Traditional usability testing, in a one-on-one setting
Eyetracking
Field studies in users' offices
Diary studies, to follow long-term use
Representative users evaluated the usability of notifications, messages, and alerts sent from 120 organizations. The studies took place in the United States, the United Kingdom, and Australia.
---
Related