Intranet Usability Guidelines: Findings from User Testing of 42 Intranets
3rd Edition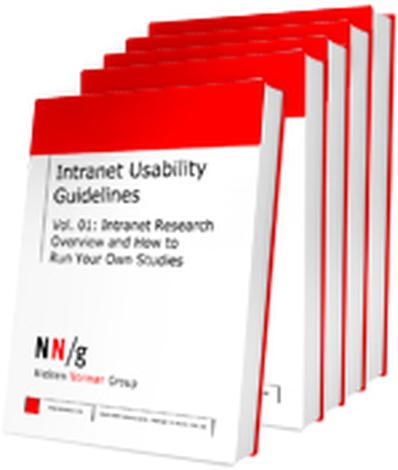 Improving the usability of your intranet will increase employee productivity, knowledge, satisfaction, and collaboration. These reports outline detailed recommendations for enhancing the intranet experience from both and employee and business perspective, based on our observational research studies.
This series includesnine reportson specific topics and presents782 guidelines. Discussions,938 screenshotsof intranets, charts, and illustrations supplement the findings.
Buy individual reports, orsave 48%when you purchase all 9 volumes together: in total1505页constituting a complete intranet usability library.
Individual Reports
Intranets Tested
The recommendations in this report series are based on user testing and field studies at 42 locations: the 41 companies on this list, including one that was tested in two different countries.
Allen & Gerritsen, Watertown, MA (U.S.)
Amazon.com, Seattle, WA (U.S.)
American Airlines, Fort Worth, TX (U.S.)
Antigenics Corp., Lexington, MA (U.S.)
Avery Dennison, study conducted in Brea, CA, but headquarters is in Pasadena, CA (U.S.)
Bayer CropScience, Research Triangle Park, NC (U.S.)
British Red Cross, London (U.K.)
Cathay Pacific, Lantau, Hong Kong (China)
Chick-fil-A, Atlanta, GA (U.S.)
CIT Group, Inc., Livingston, NJ (U.S.)
Consumers' Association, London (U.K.)
Currie & Brown, London (U.K.)
Dispatch Printing Company, Columbus, OH (U.S.)
Dubai Chamber of Commerce, Dubai (U.A.E.)
Easter Seals, Inc., Chicago, IL (U.S.)
Elsevier, Amsterdam (The Netherlands) and Philadelphia, PA (U.S.)
Embry-Riddle Aeronautical University, Daytona Beach, FL (U.S.)
Fortum, Espoo (Finland)
HealthGrades, Denver, Co. (U.S.)
Houses of Parliament, London (U.K.)
Kaplan, New York, NY (U.S.)
Kulicke & Soffa, Willow Grove, PA (U.S.)
Lower Colorado River Authority (LCRA), Austin, TX (U.S.)
Luck Companies, Richmond, VA (U.S.)
Millennium Pharmaceuticals, Cambridge, MA (U.S.)
Nestlé Group, Vevey (Switzerland)
New York Life Insurance, New York, NY (U.S.)
微波数据系统(MDS),罗氏ster, NY (U.S.)
NetApp, Sunnyvale, CA (U.S.)
Rabobank International, Utrecht (the Netherlands)
Salesforce.com, San Francisco, CA (U.S.)
San Juan Unified School District, Sacramento, CA (U.S.)
Sharp HealthCare, San Diego, CA (U.S.)
Shell UK (IT Intranet), study done in London (U.K.); but IT head office is in Houston, TX (U.S.)
Sprint, Overland Park, KS (U.S.)
State of California Employment Development Department (EDD), Sacramento, CA (U.S.)
Towers Perrin, Philadelphia, PA (U.S.)
U-Haul International, Inc., Phoenix, AZ (U.S.)
University Health Network (UHN), Toronto, Ontario (Canada)
Vytra Health Plans, Melville, NY (U.S.)
Wildcard Systems, Inc., Maitland, FL (U.S.)
What's new in the 3rd edition?
The third edition contains additional recommendations and examples — increasing from 614 to 782 guidelines based on research conducted at 15 new companies (plus the 27 from studies for volumes one and two.).
This edition also covers new topics, including:
Social networking
Different IA models
Faceted search and navigation
Knowledge sharing
Intranet personas
Research Method
在这些的信息reports is based on three separate rounds of user research with company employees as participants. We used two different research methods:
One-on-one usability testing
Field studies, during which we followed and observed employees as they went about their normal work
Hundreds of people tested 42 intranets. The studies took place in the United States, the United Kingdom, Finland, the Netherlands, Switzerland, Canada, United Arab Emirates, and China (Hong Kong).
In addition, Volume 2 and 9 include findings from data obtained from surveys given out at multiple Nielsen Norman GroupUsability Weekconferences to intranet designers.
---
Related