Intranet Portals: UX Design Experience from Real-Life Projects
5th Edition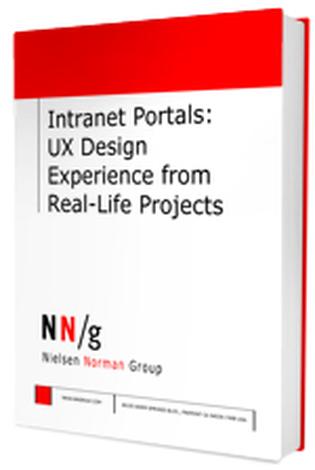 A good intranet portal provides easy access to all enterprise information, resources and tools. Intranet portals can also effectively consolidate applications, connect information, drive governance, change communication, and reduce fragmentation.
Comprehensive case studies show how the portal team can deliver what the organization and its users (your employees) need to be successful. Some of the most-praised features of intranet portals turn out not to be needed in most companies. For example, role-based personalization usually works better than individual personalization. And some compelling advice isn't about features at all, rather it's about process and governance.
This653-pagereport presents174 best practicesbased on83 case studies. Discussions and397 screenshot illustrationssupplement our findings.
This report focuses on the design, user interface, use, usability, and adoption of an enterprise portal — that is, the user experience of intranets that look, feel and act like portals.
Topics
Portal characteristics
Past and future portals
Defining the portal
Development best practices
Governance models
Department ownership and staffing
Getting employees to use and like the portal
Governance challenges
Managing content
The importance of the content management system (CMS)
Centralized and decentralized ownership and authorship
Templates, standards, and guidelines
Communication and support
User research, prototyping, card sorting, and focus groups
The common portal homepage (or no homepage)
Initial portal implementation strategy
Sub-sites
Department pages
People pages
Website design and structure
Information architecture
Moving from intranet IA to portal IA takes time
Personalization and customization
Application showcase
Portal platforms
Enterprise mobile
Collaboration and social tools
Security and single sign-on
Search and filters
Improving search
Return on investment
Methods and technologies used to realize the vision within an organization's framework
Full ToC and List of Participating Organizations
Table of Contents
Executive Summary
介绍了第五版
Credits
Defining the Portal
Governance
Managing Content
Consulting the Users
Site Design and Structure
Personalization and Customization
Homepage Gallery
Applications
The Portal Platform
Enterprise Mobile
Collaboration and Social Tools
Security and Single Sign-On
Search
Return On Investment
About the Authors
Acknowledgments
Case Studies
Studied for this edition of this report:
The Carle Foundation
City of Olathe, Kansas
Coca-Cola Enterprises Ltd.
Consumer Financial Protection Bureau (CFPB)
Department of Transport (Canada)
FDC Solutions, Inc.
Fraunhofer-Gesellschaft zur Förderung der angewandten Forschung e.V.
Fraunhofer Heinrich Hertz Institute
Municipal Design and Survey Unitary Enterprise "Minskinzhproekt"
National Archives and Records Administration (NARA)
Northern Arizona University (NAU)
Palm Beach County Board of County Commissioners
Persistent Systems Limited
Resource Data, Inc.
Think Mutual Bank
Yara International ASA
Studied for previous editions of this report:
ABB
Ahold
Air France–KLM
ANZ
BEKK Consulting
Boeing
British Red Cross
Build-A-Bear Workshop
Burke Consortium
Chevron Human Resources
Cisco Systems
City of Austin Fire Department
City of New York
Cognos
Credit Suisse Financial Services
The Defense Finance and Accounting Service (DFAS)
Dell, Inc.
Duke Energy
Edens & Avant
EMBARQ
Embry-Riddle Aeronautical University
Erste Group Bank AG
Eversheds
EZ-Filing, Inc.
IBM
Idaho National Laboratory
FIGG Engineering Group
Fujitsu Siemens Computers
Goodwin Procter, LLP
Government of British Columbia Public Service Initiative
HarperCollins
HP Europe
Huntington Bank
Immaculata University
Kadant Johnson Inc.
KPMG UK
Kaiser Permanente
La Roche Ltd
LM Glasfiber A/S
Local PI and Riding and Sons Investigations
Mars Symbioscience
New Century Financial Corp.
North Shore-LIJ Health System
Northland Regional Council
俄亥俄州立环宇ity Medical Center (OSUMC)
Pam Golding Properties
PeaceHealth
Pearson Australia Group
Piper Jaffray & Co.
Point Loma Nazarene University
Portland Public Schools
RICS
Saint Elizabeth Health Care
SanDisk Corporation
SAP AG
South African Breweries (SAB)
Sprint
Strategic Logistical Alliance (SLA)
Towers Perrin
University of California, Irvine
Vale Soluções em Energia (VSE)
Vattenfall
Verizon
Vertex, Inc.
Wachovia
Weber Associates
Windana: Drug and Alcohol Recovery
Vendor-Independent Analysis
Intranet portals are being pushed heavily by technology vendors, but the experience reported by the many portal managers we contacted is that technology only accounted for about a third of the problems they struggled with while implementing their portals. The rest were organizational issues and company politics.
This report presents a unique perspective on intranet portals: not that of a vendor trying to push a specific solution, but instead the user-experience point of view. What do portals mean to your employees and how can the portal team deliver what the organization needs? To find out, we investigated 83realportal projects, getting feedback from people who have managed the creation and updating of enterprise portals.Heretheytell their stories about what works well.
Some of the most-touted features of intranet portals turn out not to be needed in most companies: for example, role-based personalization usually works better than individual personalization. Similarly, one of the world's five-largest law firms discovered that its clients needed much simpler dealrooms than those promoted by most vendors of extranet portals.
We are vendor neutral. Some other companies that charge much higher prices for their reports receive large amounts of money from vendors. In contrast, we don't work with any portal vendors, nor do we edit out any of the harsh comments about them. We also don't have anything against the vendors, nor are we trying to sour anyone's perception of them just for the sake of doing so.
---
Related