How to Conduct Usability Studies for Accessibility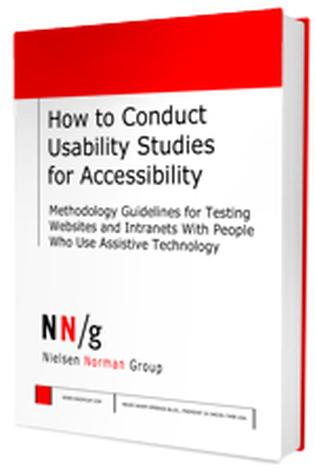 When conducting usability testing studies with participants who use assistive technology it's important to conduct sessions on site, letting people use the technology they are familiar with. Learn how to conduct your own accessibility studies to discover specific information about how your own users who use assistive technology interact with your website or intranet.
This47-pagereport presents40 tips and tricksfor running better usability test sessions with people who use assistive technologies. For design best practices, please seeUsability Guidelines for Accessible Web Design.
Topics covered
Learn how to adapt standard usability testing practices to accommodate people with disabilities
Testing for accessibility and usability throughout the project lifecycle
How we conducted our accessibility studies
Supplement the general guidelines with empirical tests of your own design with your own users
Trust, consent forms, pictures, and video
Using video and still cameras
Conducting studies at the user's home or office
Screen reader and braille sessions
Motor skill assistive technology sessions
Recruiting and preparing participants
Quantitative and qualitative study tips
Metrics to collect
Sample documents for accessibility studies
Recruiting screener used in the quantitative part of the study
Checklist used in the quantitative part of the study
Facilitation notes used in the quantitative part of the study
Question sheet used in the quantitative part of the study
Consent forms
---
Related