B2B Website Usability for Converting Users into Leads and Customers
第3版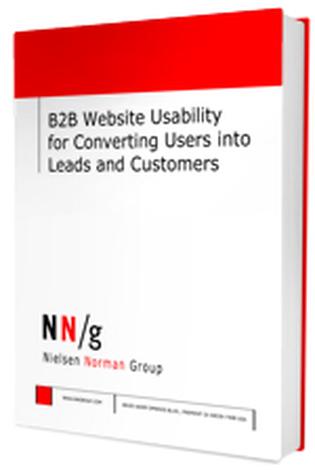 B2B sites have a challenging job: They need to support business customers through long, complex buying processes, they need to generate leads for the sales team, and they need to be a resource for existing customers after purchase. Ensure that your business-to-business website stands out among the competitors. Know what customers need when trying to complete tasks, such as comparing products, sharing options with colleagues, building a shortlist, and signing up for information.
Featuring complex products and services, catering to a diverse audience, and accommodating long buying cycles does not mean your website must be difficult to use.
This419-pagereport presents188 user-experience design guidelinesbased on our user research. Discussions and301 screenshot illustrationssupplement our findings.
Topics covered
了解商业客户的想法:了解是什么促使他们在网站上做生意
Optimize content to support each stage in a long, considered buying process
Support collaborative purchasing processes and help your customers justify purchases to leadership
创建更好的B2B移动、平板电脑和响应性网站
Designing for diverse audiences

Personas: Putting faces to your business customers, special sectors
Understand how people's experiences on general websites affect their expectations on B2B websites
Understand the needs of "users" and "choosers", and how to speak to both key audiences.

Checklist of 181 UX guidelines to convert more business leads into customers

展示你如何解决潜在客户的问题
Making product and service pages compelling
Building comparison charts that win customers
Including the right technical specifications
建立一个更好的About Us页码
Creating lead-generation forms that encourage conversions
显示复杂的定价方案
使用内容策略展示专业技能并吸引潜在客户
Best practices for images, multimedia, and videos
Contact: phone, chat, forms, and information on contact page
B2B购物车和结帐
注册和在线账户管理
Proof of business benefits: Case studies, white papers, and technical documents
Strong calls to action
Supporting and maintaining customers after the sale
Partner-specific custom websites
The online impact of offline marketing dollars
Considerations for international customers
第三版有什么新内容?
The third edition contains updated research that produced new guidelines and 301 screenshot examples, an expanded mobile and tablet section, and all-new categories and organization.
研究方法
The information in this report is based on our user studies, including:
Usability testing sessions (one-on-one)
Focus-group sessions
Site visits
纵向日记研究
启发式设计评审
Representative business users tested 293 B2B websites. We conducted our research in three countries: the United States, the United Kingdom, and Singapore.
---
Related