Effective Agile UX Product Development
3rd Edition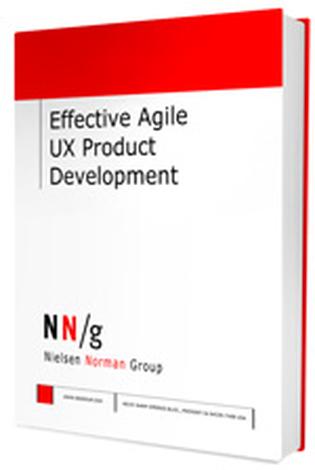 113 pages of Agile UX best practices and advice. Learn how to infuse user-centered design practices to Agile frameworks.
This report contains case studies, interviews, and empirical evidence from more than570 respondents.
Case studies and interviews from 40 Agile and UX practitionersprovide tips and rich examples of how to overcome challenges.
What You Get
Practical advice on how to integrate user-centered design within Agile environments
Trends on how UX teams are structured, their roles, and responsibilities
Making the most out of UX resources
How to get buy-in from stakeholders, developers, and team members
Lean (discount) user research methods and deliverables
Table of Contents
A Brief History of Agile
Traditional Development Methods
Scrum, an Agile Methodology

Common Jargon on Agile Teams

Dual-Track Agile

UX Working Ahead of Sprints

The UX Process in Agile

Define Goals and Uncover Assumptions

User Research in the UX Process

Turn User Research into Team-Driven Events
Competitive Testing
Site Visits
Personas
User Testing/Interviews
Prioritize User Research

Iterations in the UX Process
Project Initiation Phase (a.k.a. Sprint Zero)
UX Participation in Ceremonies
Documentation and Deliverables in Agile

Lightweight Persona Artifacts
Prototypes
Front-End Style Guides
Storyboards

Tracking UX Work: User Stories and the Backlog

User Stories & Definition of Done: How Does UX Weigh in?
UX Improvements Documented as User Stories or Bugs?
User Story Maps Help Bring User Focus to the Backlog
Estimating UX Effort and Story Points
Kanban Boards for UX
Backlog Software: Ways UX Can Use It

Communication and Remote Teams

Communicating with Developers
Remote Teams

Leading Highly Effective UX Teams

Adhere to Agile Principles
Plan for Influence
Don't Lose Sight of The Big Picture
Nurture a User-First Culture
Cultivate a Collaborative Culture
Not Enough UX People?
What's new in the 3rd Edition?
这第3版包含了许多额外的斯图dies, illustrations, photos, and artifacts from successful Agile UX practitioners, as well as updated findings about process, deliverables, and tools. In addition, the report is organized in a clearer way.
If you already own the 1st or 2nd edition of this report, should you buy the 3rd edition? Probably so, because even though many of the main conclusions in the first two editions were confirmed in additional studies for the 3rd edition, many new guidelines and suggestions have emerged now that Agile practice is more mature and more prevalent.
---
Related