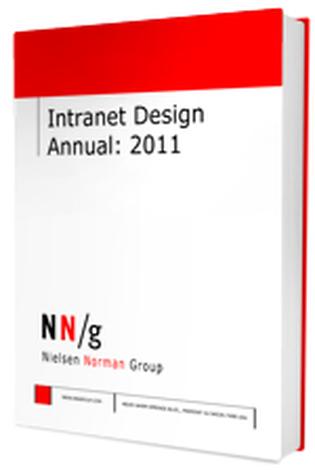 Get an inside look at the 10 best intranet designs of 2011 — this433-pagereport is the only place to find this information, with218 full-color screenshotsof before and after designs, which are usually protected behind the organization's firewall.
Comprehensive case studies inform you of the trends and challenges of the year, which you can use to improve your own intranet design.
The winning intranets were chosen by expert review based on design and usability, from a field of hundreds of nominations.
Article: 10 Best Intranets of 2011
Topics
Tips for incorporating successful design patterns onto your intranet
Mobile intranets and iPhone apps
Knowledge management
Innovation management
Company and industry news
Editorial control of the intranet homepage
Curating content across the intranet
Keeping the intranet up-to-date
CEO blogs
Employee and department weblogs
Consistent navigation
Page templates and consistent page layout
Multimedia and video on intranets
Data visualization
Web 2.0 features on intranets ("Enterprise 2.0")
Employee-contributed内容
Commenting features
Increasing the level of employee participation: Reward features
Ratings and feedback systems
Mega-menus for intranet navigation
Search
Development process for intranet redesigns
Web analytics for intranets
Intranet branding
Promoting new intranet features
Staff directory and employee profile pages
Expertise finders (locating coworkers with specific knowledge)
Corporate calendars
Personalization
Customization
Governance
Change management
Information on the methods and technologies used to achieve the vision within an organization's framework
Winners
AMP Limited, a wealth management company (Australia
Bennett Jones LLP, one of Canada's largest law firms (Canada)
Bouygues Telecom, a telecom, mobile, fixed, TV, and Internet communications services company (France
Credit Suisse AG (Switzerland), a global financial services company
Duke Energy, an electrical power holding company (US)
Habitat for Humanity International, a nonprofit, non-denominational Christian housing ministry (US)
Heineken International, a leading brewer and owner and manager of a portfolio of beer brands (the Netherlands),
KT, an information, communications, and technology company (Republic of Korea)
Mota-Engil Engenharia e Construção, S.A., a leading construction enterprise (Portugal),
Verizon Communications, a provider of wired and wireless broadband and communications services (US)
These companies ranged in size, with the averages size of 37,900 employees.
---
Related