Email is an effective communication channelfor companies to connect andmaintain relationships with customers. With the growth of social-media platforms as useful customer-engagement channels, many people assume email marketing has become less relevant and effective. That's wrong. In its annual State of Email survey, email-testing platform and marketing-research group Litmus reported that thereturn on investment (ROI)for email marketing is still very strong: on average, for every dollar invested, the return is $38.
For that reason, we continue to study the user experience of newsletters and marketing email. When we conducted research for the 6th edition of our report,Marketing Email and Newsletter Design to Increase Conversion and Loyalty, we saw a surge in the use of animated GIFs in the emails we tested. The acronym, GIF, stands for Graphic Interchange Format, which is a digital-image file format where multiple frames are encoded into a single file. Email clients and web browsers can play GIF images in an animated sequence resembling a short repeating video. The use of this dynamic-content type is widespread in email marketing. Litmus indicated that 57% of marketers reported using animated GIFs at least sometimes in their email campaigns. Many email-campaign tools and platforms tout the effectiveness of animated GIFs in increasing marketing-email engagement, but there is little insight into how users perceive this content.
Methodology
To explore this question, we conducted two online surveys. We showed 14 different marketing emails with a variety of animated GIFs to a sample of 55 respondents. We also created a corresponding static version of each of these emails using a single frame from each. These static variations were shown to a different set of 66 respondents.
For each of the 14 emails, we asked respondents to describe the email by selecting 3 words from a given list of reaction words (a modifiedMicrosoft Desirability Toolkittest). The word list provided included 30 total reaction words, 18 of which were positive and 12 of which were negative. (Of course, respondents saw the words in a single mixed list, but, for clarity we're showing you the words divided into two lists.)
| | |
| --- | --- |
| Positive | Negative |
| 1. Appealing | 1. Annoying |
| 2. Compelling | 2. Unrefined |
| 3. Cutting edge | 3. Cheap |
| 4. Exciting | 4. Complex |
| 5. Friendly | 5. Confusing |
| 6. Engaging | 6. Ineffective |
| 7. Inspiring | 7. Boring |
| 8. Motivating | 8. Distracting |
| 9. Professional | 9. Dull |
| 10. Relevant | 10. Frustrating |
| 11. Satisfying | 11. Impersonal |
| 12. Clear | 12. Incomprehensible |
| 13. Straight Forward | |
| 14. Powerful | |
| 15. Stimulating | |
| 16. Creative | |
| 17. Fun | |
| 18. Helpful | |
In addition, we selected a small subset consisting of 4 of these emails and asked respondents to rate the value of the emails based on a 7-point semantic differential scale (1 = not at all valuable, 7 = extremely valuable). For the same subset of emails, we asked them to rate how trustworthy they felt the email was (1 = not at all trustworthy, 7 = extremely trustworthy).
选择的电子邮件都是真正的营销邮件from online retailers. In both surveys, the emails were presented in a random order. The survey respondents used a desktop or laptop device in order to see these emails.
Two examples of thefull set of stimuli testedare shown below.
| | |
| --- | --- |
| | |
| Bed Bath & Beyond's email promotion of Dyson Vacuum cleaners showed the products animating in alternation. | A static version of this email was shown to a separate set of respondents. |
| | |
| --- | --- |
| | |
| Michael's Top 10 Picks for Summer email displayed rotating citrus fruits to add to the summery vibe. | A static version of this email was shown to a separate set of respondents. |
没有动画是描述我的邮件n More Positive Terms
When we asked people to select three words from a list of positive and negative terms, respondentsselected more positive reaction words and fewer negative reaction words for the emails with static images compared to those that had animated images. On average, an email with animation received 1.7 negative words and 1.3 positive words, whereas an email without animation received 1.2 negative words and 1.8 positive words. Both these differences were statistically significant at p < 0.005.
In other words, adding animation to an email increased its negative word count by 40% and decreased its positive word count by 30%.
If we were to quantify the positive sentiment elicited by an email as the difference between the average number of positive words and the average number of negative words, by adding animation to an email,the positive sentiment towards that email decreases by 165%. (That's because the positive sentiment for an email without animation is 0.55, while the positive sentiment for an email with animation is -0.36. Negative numbers mean that the sentiment is predominantly negative.)
The words with the largest differences in the number of selections across stimuli are outlined below. These numbers indicate the average number of times these words were selected by respondents for the 14 emails across both variations.
Average Percentage of Users Who Selected Each Word for an Email: Animated vs. Static Emails

Word
Type
Animated GIFs
Static Images
Discussion
Annoying
Negative
31%
14%
Selected much more often for emailswithanimated GIFs
Distracting
Negative
20%
11%
Dull
Negative
20%
13%
吸引人的
Positive
11%
18%

Selected much more often for emailswithoutanimated GIFs

Clear
Positive
21%
27%
Fun
Positive
7%
12%
Three negative words (Annoying, Distracting, and Dull) were selected much more often when participants viewed emails that contained animated GIFs. Three positive words (Appealing, Clear, Fun) were selected much more often when participants viewed the variation of the email that did not containanimation. Differences between the rest of the words in the word list were less pronounced.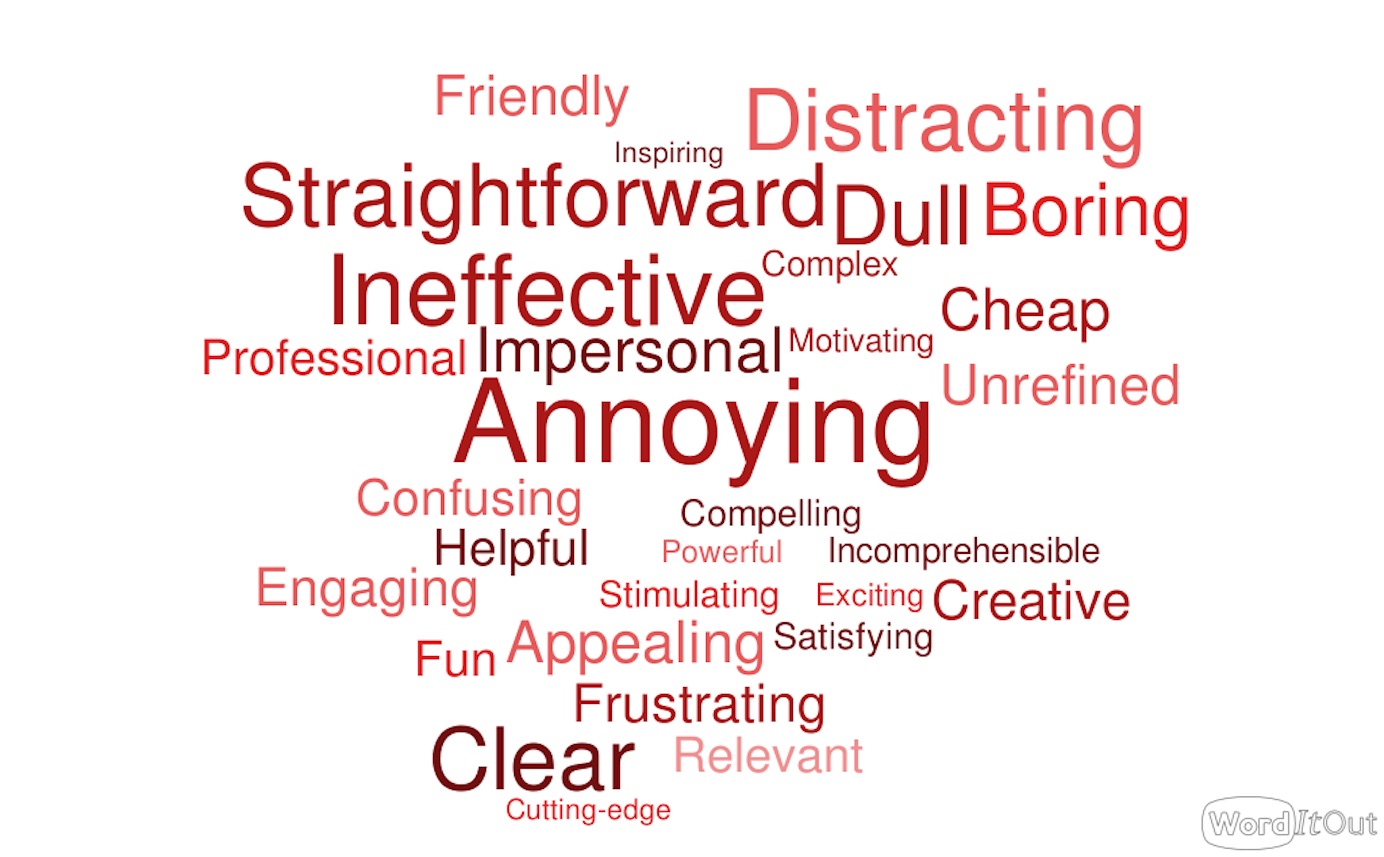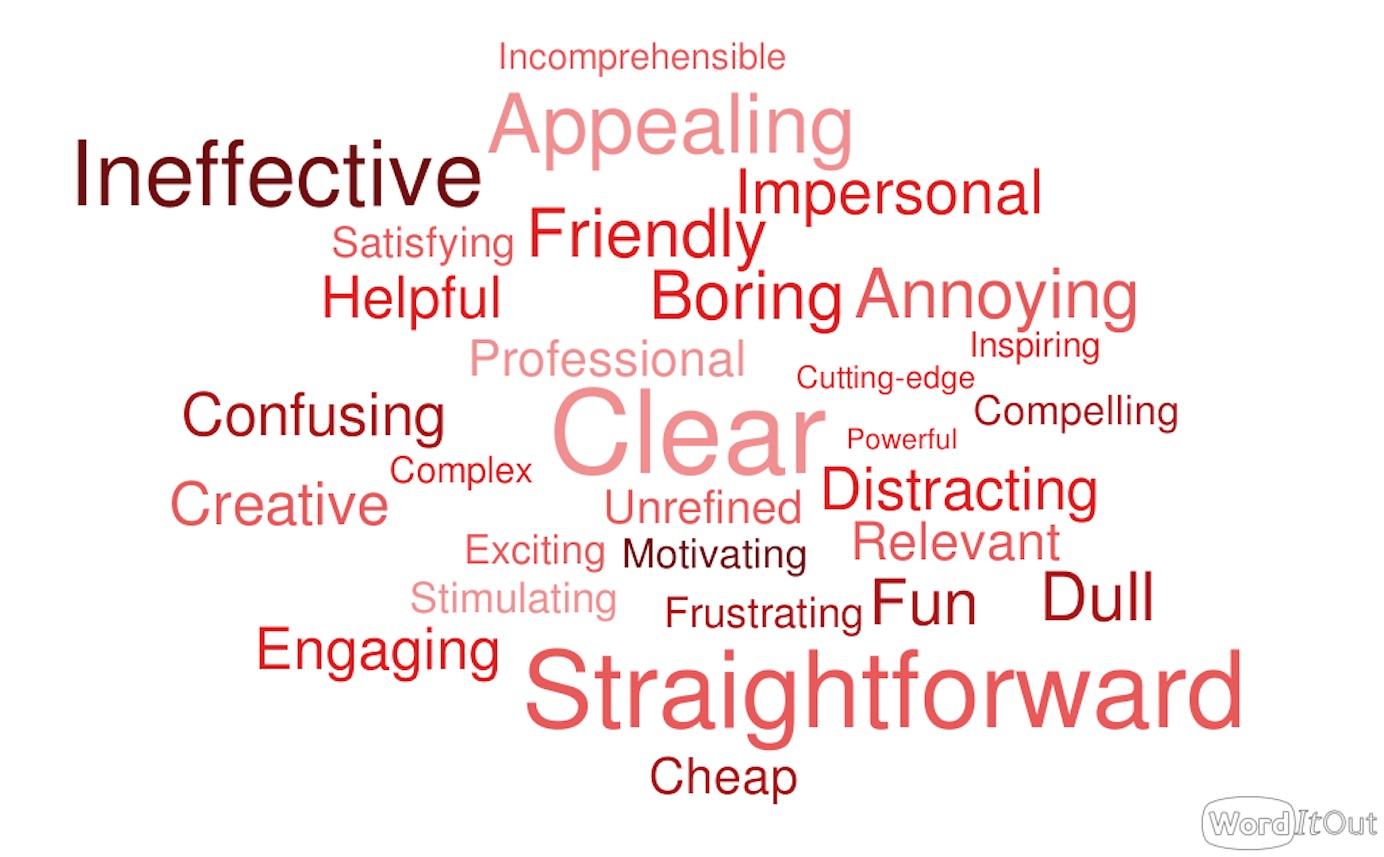 Emails Without Animated GIFs Were Seen as More Valuable and Trustworthy
Across the sample of 4 emails where value and trustworthiness were assessed, the emails without animated GIFs tended to be rated as more valuable than emails with animated GIFs (3.69 vs 3.24 on a scale of 1 to 7). This difference was marginally significant when participants were treated as the random factor ("across subjects"), but not significant when the emails were treated as the random factor ("across emails").
In other words, there is some limited evidence that emails without animated GIFs are perceived as more valuable, but we would likely need more data to know for sure whether that is indeed the case.
Emails without GIFs were also rated more trustworthy than emails with animated GIFs (4.34 vs. 3.90 on a scale from 1 to 7). This difference was statistically significant difference (p = 0.04) across emails, but only marginally significant across subjects (p =0.06).
Discussion
Before we dive into a discussion of what these results might mean, we should acknowledge the limitations of this study.
We only used ecommerce marketing emails.Though animated GIFs are used in emails and newsletters from other types of websites, we did not have a large enough sample of similar emails outside of ecommerce. Thus, to ensure that all emails tested were of the same type, we restricted the study to ecommerce marketing emails, where GIFs are widely used.
Only 4 emails were included in the analysis of value and trust.To limit the length of the survey, participants were only asked to rate the value and trust on 4 of the 14 emails. These 4 emails may not be representative of all types of GIFs users would see in ecommerce marketing emails. For example, users may consider GIFs with product demonstrations as more valuable. However, even with this small sample of emails, the higher averages of value and trust ratings for static emails are a compelling finding.
The results of this study do imply that,on average, people have a more positive reaction to emails without animated GIFscompared to those with animated GIFs: not only do they describe them using more positive words and fewer negative ones, but they also find them more trustworthy and tend to assign a higher value to them.
Emails with animated GIFs are likely received more negatively for a variety of reasons. One longstanding UX best practice is thatanimations should be used judiciously and only for the clear purpose— for example, for providing feedback about state changes and information about how an interface functions. Beyond that,animations can be distractingto users, especially when they're unexpected. Users don't anticipate to see flashing colors and words when they open a new email. In their words, it's annoying and distracting. It's difficult to read about an online sale or see what's being offered with excessive and meaningless movement on the screen. These types of GIFs may seem a gimmick or a cheap attempt to get attention.
That said, not all animated GIFs are inherently bad. Some more conservative and meaningful animated GIFs may still be effective and welcomed by users. In the example below of a marketing email from Mr. Porter, the movement of the flickering fire in the GIF is subtle and pleasing, doesn't impede on the message in the email, and achieves the goal of providing movement to elevate the image of the brand.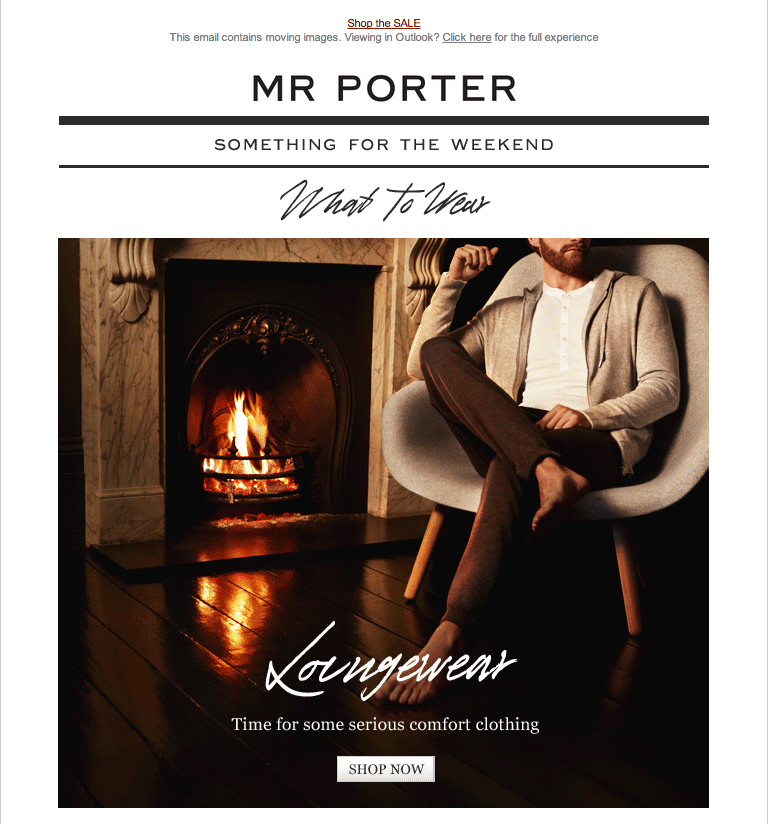 Additionally, animated GIFS can be quite effective for demonstrating a product — for example, this email from Bonobos shows recipients how the company's tear-away chinos pull away from the body with a swift tug.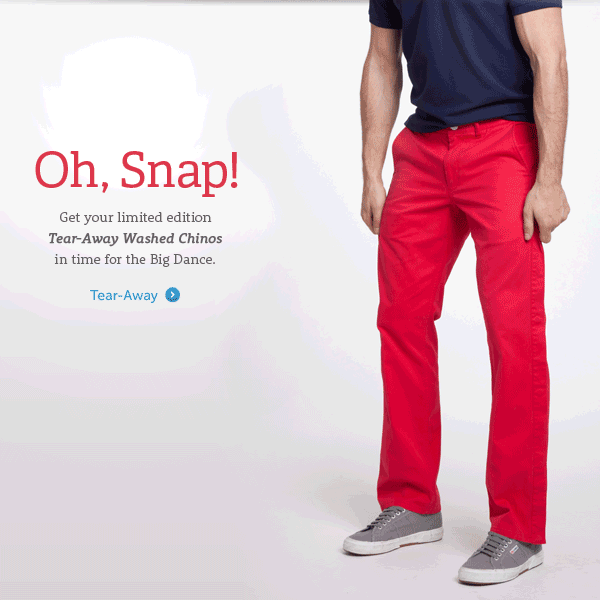 The key to animated GIFs in email is to follow the longstanding UX best practices for animations. Use them judiciously and purposefully to communicate information, but don't go overboard and don't distract. Adding animation to jazz up boring emails seems innovative and fun as the creator, but this doesn't translate to the recipients.